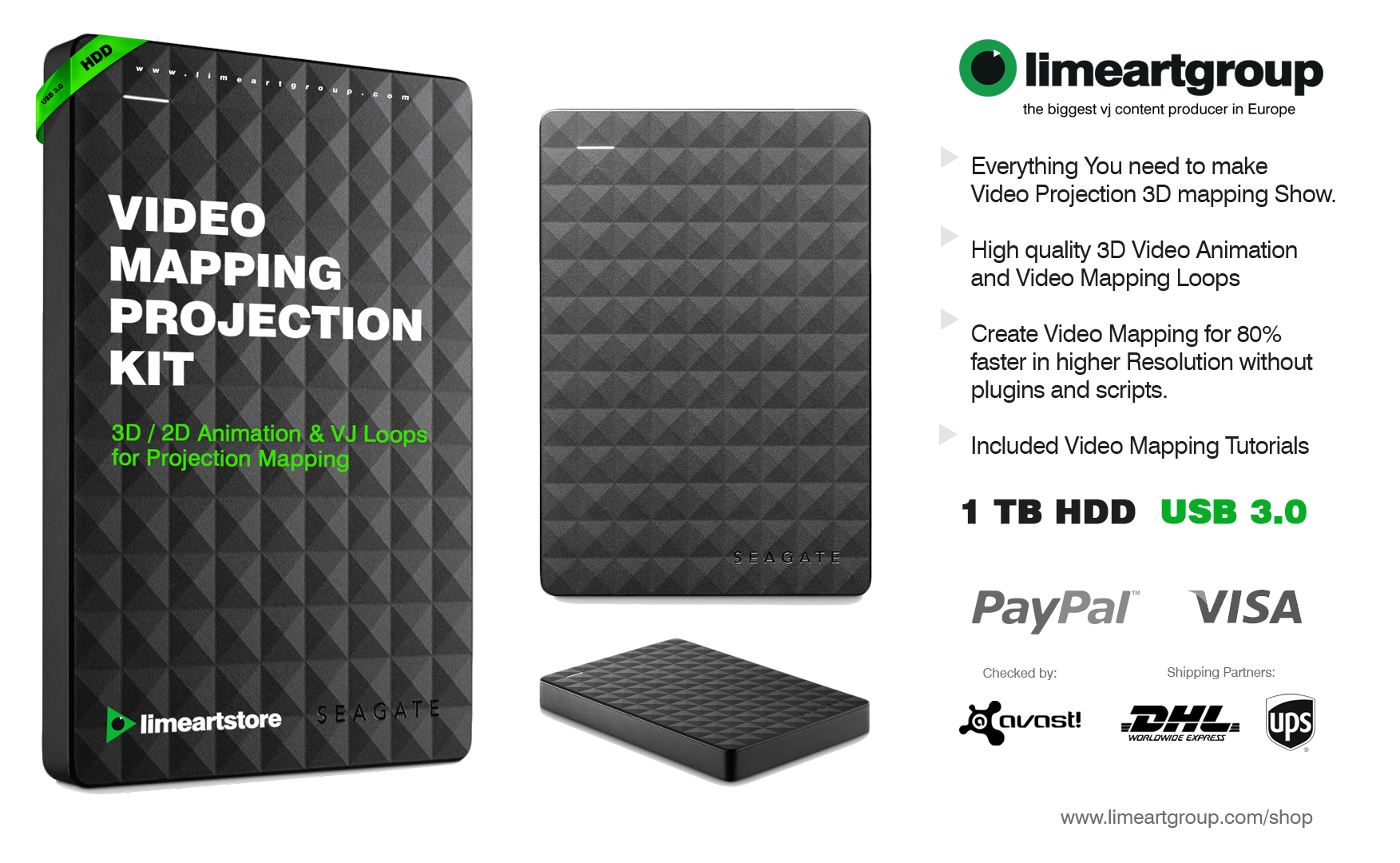 Exclusive 3d displacement visuals kit
Shop HDD Video Mapping Projection Kit Vol.1
Create stunning architectural and object projection mapping shows with this toolkit. High-Quality PNG sequence with an alpha background, to easily create your own mix. A variety of animations, from 3D effects to line effects find it all here. 3D extrusions for walls, 3D breaking effects for video mapping, outline effects for object projection mapping, 3D geometric shapes, among other amazing 3D effects for video mapping. An exclusive range of content you won't find anywhere else!
Want to save up to 4000 € and still add a large portion of new content to your library? Order HDD Video Mapping Projection Kit by LIME ART GROUP! You will get a secure Hard Drive stuffed to eyeballs with Video Mapping high-quality raw material for Video Projection, Architectural 3D Mapping and Object projection mapping. After order, you will get an HDD Kit delivered to your door, and also you will get a full list of instant download links. 29-50 Fps. Full HD Resolution. Quicktime Photojpeg and PNG Scenes with Alpha Channel. Download at LIME ART GROUP VJ Shop
Exclusive 3d displacement visuals kit
All Video Mapping Loops Packs
Projection Mapping HDD Kit contains all video mapping loops packs on website limeartgroup.com. Video Mapping Loops helps you to change geometry of your architecture and create optical 3D depth effect. You also can use video mapping loops as video transitions or overlays for your video design projects. Projection Mapping Loops produced for different architectural styles and can be useful at outdoor and indoor projection mapping.
Look no further when it comes to your projection mapping requirements. This HDD comes loaded with all the various video mapping content you could require. For Architecture mapping, you get a collection of 3D effects like breaking walls, extrusions, geometric animations and other effects to use for projection on walls. You also get a large collection of architecture-based loops like growing animations on window frames, circular frame animations, effects on pillars, doorways, arches and other elements that can be used specifically for projection mapping on buildings and interiors. 
Exclusive 3d displacement visuals kit
All Video Mapping Toolkits
3D Mapping on a building or a structure? A mega collection of PNG sequences designed especially for architectural facade projection mapping. Created by professional artists, each clip is available individually with an alpha channel for easy editing. Easily projection map edges of a structure, doors, windows, pillars, arcs, columns, pediments, cornice and other ornate decorative elements. 
Save 4000 EUR – purchasing all visuals
for Projection Mapping in one HDD
Full HD 1920×1080

4K 4096×2304
All Visuals for Video Mapping
Royalty free lifetime license for all visuals in HDD Kit. 
After purchase You will get a confirmation E-mail with links for instant download. 
Learn how to use projection mapping loops
Watch 3D Video Mapping Tutorial
Creative digital content for multipurpose
Projection Mapping
Original visuals & motion graphics with alpha channel for projection video mapping on the building facade and different architecture. 
Virtual Reality
Exclusive visual media textures for level-design and 3D environment in augmented, virtual reality and digital art projects.
Video Production
Creative digital assets for video editing & post-production projects. Video content for advertising and decorating purpose.